Shishir Sinha, Ph.D., FIE(I), FIIChE, FRSC, FIEEES, FINDA
Professor
Department of Chemical Engineering
Indian Institute of Technology Roorkee
Roorkee-247667 (India)
Email: shishir[at]ch[dot]iitr[dot]ac[dot]in
Webpage: https://www.iitr.ac.in/~CH/shishir

Director General
Central Institute of Petrochemicals Engineering and Technology (CIPET)
Ministry of Chemicals and Fertilizers
Government of India
Phone No.: +91-44-22253040
Email: shishir[at]cipet[dot]gov[dot]in
Webpage: https://www.cipet.gov.in/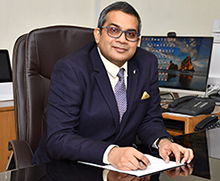 Professor Shishir Sinha, presently holding the position of Director General, Central Institute of Petrochemicals Engineering and Technology (CIPET) under the Ministry of Chemicals and Fertilizers, Government of India. Prior to joining as Director General CIPET, he was holding the position of Director, Kamla Nehru Institute of Technology Sultanpur (An autonomous technical institute of Government of U.P.).
Prof. Shishir Sinha, is a Professor in the Department of Chemical Engineering, Indian Institute of Technology Roorkee. He was also associated faculty in Centre Excellence in Disaster Mitigation and Management, IIT Roorkee.
He obtained his B.Tech., M.Tech. and Ph.D. in Chemical Engg. Specialization in Polymer Synthesis from Harcourt Butler Technological Institute Kanpur and Indian Institute of Technology Kanpur respectively.
He is among the leading academician in India who are working on technologies of national importance such as waste polymer to value added products. Prof. Sinha has more than 24 years of academic and industrial research experience with more than a hundred highly reputed publications besides more than 132 in conference proceedings. Apart from this, he has written 11 books with reputed publishers and several book chapters. Successfully completed over 22 high impact projects and consultancies valued more than 152.79 million Indian Rupees. Apart from he has three granted patents and four published patents to his credit. He has also organized many international conferences on areas related to his specialization. He has supervised 17 doctoral students as on date and 11 are currently pursuing their dissertation. Apart from this he has guided more than 50 master's theses. Prof. Sinha has developed six very popular online courses in the field of Chemical Engineering. He has formulated several national and international MoUs between IIT Roorkee and institution/ university of repute like University of Strasbourg, University of Cranfield, RGIPT etc.
Prof. Sinha is a Fellow of Royal Society of Chemistry, Fellow of Indian Institute of Chemical Engineers, Fellow of Institution of Engineers (India), Fellow of International Society for Energy, Environment and Sustainability, Fellow of Indian Desalination Association and Fellow of Indian Chemical Society. He is also member of many expert committees constituted by government and non-government organizations. His research interests are in the areas related to Membrane Separation, Water Treatment, Polymer Synthesis and Modification, Ion Exchangers, Composites.
Research Interests and Projects:
Research Areas: Polymer Reaction Engineering, Polymer Composites, Ion Exchangers, Waste water treatment for Tanneries and petrochemical plants, fluidized catalytic cracking, development of eco-friendly energy improvisers for carbon black.
Current Projects: Waste water treatment for tanneries and petrochemical processes. Enhancement of energy efficiencies carbon black production plants. Development of fire retardant eco-friendly polymer composites.
Please visit his personal webpage at https://www.iitr.ac.in/~CH/shishir