ABOUT CIPET : SARP - APDDRL - BENGALURU
School for Advanced Research in Petrochemicals (SARP) - APDDRL, one of the R&D wings of Central Institute of Petrochemicals Engineering and Technology (CIPET) is located at Devanahalli, Bengaluru. APDDRL, with its state-of-the-art technical infrastructure, is dedicated for Research & Development, Consultancy, Technical Support Services and Specialized Tailor-made Courses in Polymeric Materials and Petrochemical Products.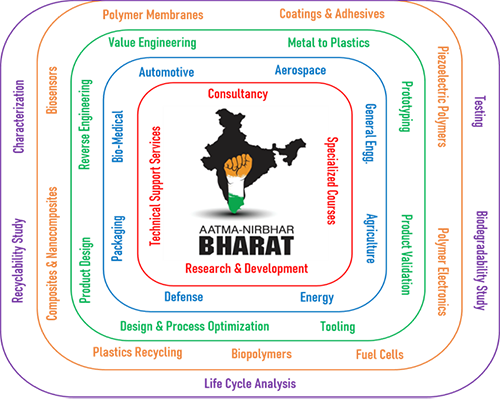 SARP-APDDRL, a 'one-stop facility' for conceptualization of novel research ideas, is well-equipped with facilities for Material Development to Product Design & Development and Process & Design Validation. SARP-APDDRL works towards articulating research ideas to develop novel technologies on environmentally friendly solutions for sustainable polymers, plastics waste management, recycling & value addition, fuel efficient transportation, power storage and energy harvesting devices, polymers for bio-medical & healthcare applications, process & application development for cellular plastics, product design & simulation, process validation and 3D-printing technologies, to keep pace with the global scientific community.

The laboratory undertakes consultancy and technology support assignments for solving engineering problems of the industries, developing indigenous technologies and formulating environmentally friendly solutions etc. Further, the laboratory provides centralized support and service with state-of-art testing & characterization studies, catering to a wide arena of requirements of polymer and allied industries.

The laboratory also caters to the contemporary requirements of the society such as developing alternatives for Single Use Plastics, Recyclability Analysis of various products, Biodegradability Studies and development of Bio-based Polymers and Composites.